ABOUT THE NATURAL HISTORY MUSEUM
The Natural History Museum (NHM) is a program of Not An Alternative, a non-profit organization and collective that works at the intersection of art, activism, cultural organizing, and critical theory.
Since launching in 2014, NHM has grown into an institution in its own right, leveraging the power of history, museums, monuments, and movements to change narratives, build alliances, educate the public and drive civic engagement in support of community-led movements for climate and environmental justice.
NHM strategies include developing award-winning films, exhibitions, and public cultural events; publishing; coalition-building, and advocacy. This artist statement situates NHM's work within Not An Alternative's broader art/activism practice. 
Not An Alternative (est. 2004) is a collective and non-profit that works at the intersection of art, activism, and critical theory. We have a mission to affect popular understandings of histories, symbols, and institutions. Not An Alternative's work has been exhibited in museums around the world, including Guggenheim, PS1/MOMA, Smithsonian National Museum of the American Indian, Queens Museum, Brooklyn Museum, Tate Modern, Victoria & Albert Museum, and Museo del Arte Moderno, and was cited in The New York Times and ArtNet's "Best in Art in 2015" round-ups.
Our latest, ongoing project is The Natural History Museum (NHM, 2014—), a traveling, pop-up museum that highlights the socio-political forces that shape nature. The museum inquires into what we see, how we see, and what remains excluded from our seeing. Working with artists, activists, Native Nations, scientists, and museum professionals, NHM organizes exhibitions inside museums that interpret environmental history according to new coordinates–connecting local threats and movements to protect the environment, public health, and local cultures to the history of museums, the legacy of colonialism, and to ongoing concerns about cultural and environmental heritage. Our aim is to unleash the power of museums, motivating them to act not as shrines to a civilization in decline, but as agents of change.
NHM brings together Indigenous leaders, environmental organizers, scientists and scholars in the hopes of building a community of practice around a natural history for the future. This future is aligned with movements for climate and environmental justice, informed by a non-dominating and non-exploitative relation to the land, and guided by an obligation to generations past, present and future.
Our practice reckons with the extractive history of natural history–the discipline's participation in colonial processes of dispossession and nation-building, with an aim of uplifting a countervailing practice of natural history: one that relates to the natural world as a system of reciprocal relations between humans and non-humans, the elements and the land, and which recognizes the museum not as a keeper of the dead but as a custodian of the life that runs through everything—inside, under, and beyond the museum.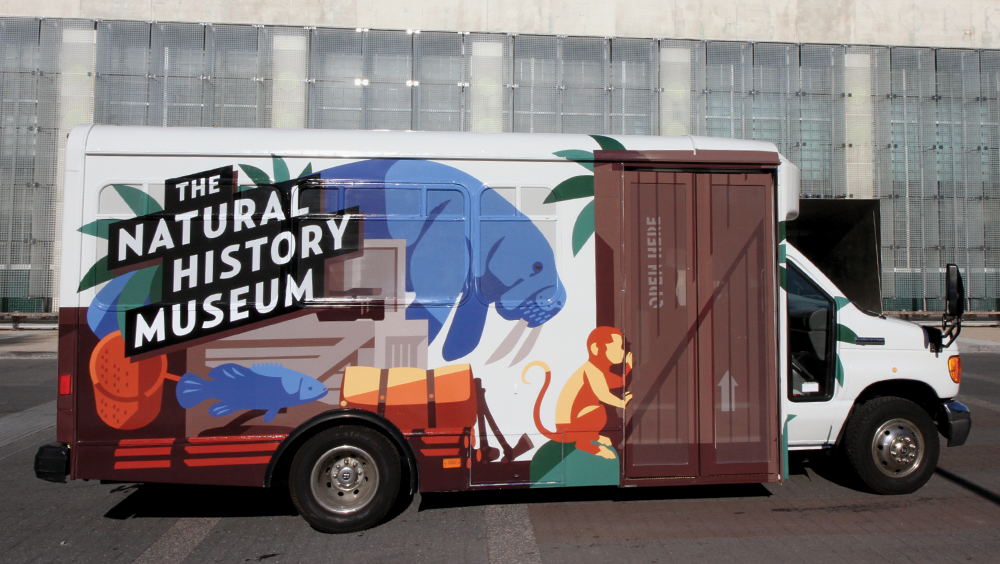 BOARD OF DIRECTORS
Judith LeBlanc (Caddo)
Alexis Bunten (Aleut/Yup'ik)
Rosalyn LaPier (Blackfeet / Métis)
Shelley Means (Ojibwe / Lakota)
Lise Van Susteran
Laura Raicovich
Marc Weiss
ADVISORY BOARD
Betsy Theobald Richards (Cherokee Nation of Oklahoma), Director of Creative Strategies and Public Programs, The Opportunity Agenda
Crystal Echo Hawk (Pawnee Nation of Oklahoma), President and CEO of Echo Hawk Consulting and Founding Director of Reclaiming Native Truth
Eric Chivian, Founder and Former Director of the Center for Health and the Global Environment at Harvard Medical School, co-founder of International Physicians for the Prevention of Nuclear War, which won the Nobel Peace Prize in 1985
Faith Spotted Eagle (Yankton Sioux), Founding Member, Braveheart Society
James Powell, Geochemist; Former President and Director of the Los Angeles County Natural History Museum and former President of the Franklin Museum of Science
Judith LeBlanc (Caddo Tribe of Oklahoma), Founding Director, Native Organizers Alliance
Kert Davies, Director, Climate Investigations Center
Kii'iljus / Barbara J. Wilson (Haida Nation), Fellow at the Pacific Institute for Climate Change (PICS)
Lise Van Susteran, Psychiatrist, Co-Founder, Interfaith Moral Action on Climate
Mark Dion, artist
Michael Johnson (Arikara/Hidatsa/Ojibwe), Assistant Director of Development, Native American Rights Fund
Michael Mann, Distinguished Professor of Meteorology; Director, Earth System Science Center, Pennsylvania State University
Naomi Klein, Award-winning journalist and author of The Shock Doctrine: The Rise of Disaster Capitalism, and This Changes Everything: Capitalism vs. the Climate
Robert R. Janes, Ph.D. , Archaeologist, Museologist, Editor-in-Chief Emeritus of Museum Management and Curatorship
Rosalyn LaPier (Blackfeet), Author, Ethnobotanist, Scholar, Member of the EPA's National Environmental Justice Advisory Council, and Research Associate at the Smithsonian National Museum of Natural History
Shelley Means (Ojibwe/Lakota), Native Community Consultant for Native Voices Rising, Trainer with Native Organizers Alliance
TEAM
Beka Economopoulos, Executive Director
Jason Jones, Creative Director
Ruth Miller (Dena'ina Athabaskan), Storytelling Organizer
Julian Brave Noisecat (Secwepemc/St'at'imc), Narrative Change Director
Karina Yager (Quechua), Director of Education
Steve Lyons, Director of Research
Mark Auslander, Senior Research Fellow
Special Thanks to Our Supporters
Chorus Foundation
4Culture
Overbrook Foundation
Nathan Cummings Foundation
Heinz Foundation
Hewlett Foundation
National Geographic Foundation
Resources Legacy Fund
Invoking The Pause of RSF Social Finance
Canada Council for the Arts
Beespace NYC
LUSH Charity Pot
A Blade of Grass
Native Arts & Culture Foundation
Patagonia Foundation
Global Wallace Fund
Compton Foundation
Voqal Fund
Horton Foundation Fund
Benoona Fund of RSF Social Finance
The New York Community Trust
Solidaire
Scintilla Foundation
Argosy Foundation
Andy Warhol Foundation for the Visual Arts
David Rockefeller Fund
Harder Foundation
Vadon Foundation