Snake River to Salish Sea
May 3 – 20, 2022
This May, Lummi carvers will transport a 3,000 pound orca totem pole and 9-foot salmon carvings to communities throughout the Salish Sea and Snake River bioregion to draw attention to the extinction crisis facing Pacific Northwest salmon and orcas, and build support for the Indigenous-led movement to remove the Snake River dams.
Led by Se'Si'Le and the House of Tears Carvers of the Lummi Nation, the Spirit of the Waters totem pole journey aims to inspire, inform, and engage community audiences through intergenerational voices, ceremony, art and science, spirituality, ancestral knowledge, and cross-cultural collaboration to restore to health the Snake River salmon and the Salish Sea orcas that depend on them.
As part of the journey, The Natural History Museum's award-winning Whale People: Protectors of the Sea exhibition and IMAX-style film screening will be featured at the University of Oregon in Eugene, and the Tamastslikt Cultural Institute and Museum at the Confederated Tribes of the Umatilla Indian Reservation.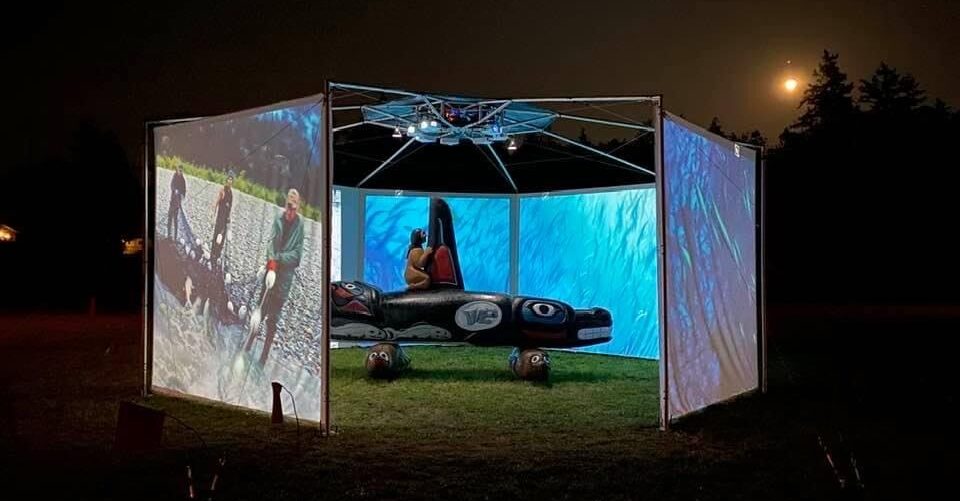 Join us for in-person and live-streamed journey events in urban centers (Eugene, Astoria, Portland, Seattle and Tacoma), and tribal communities (Lummi, Chinook, Nez Perce, Umatilla, Shoshone-Bannock, and the Village of Celilo). At each stop, art and culture will spark understanding of our natural heritage, and ceremonial moments steeped in ancestral knowledge will present both the challenges the region faces and opportunities for engagement around solutions.
SCHEDULE
May 3rd @ Bellingham, WA
6:00-7:00 pm, Unitarian Fellowship Hall
May 5th – 8th @ Eugene, OR
University of Oregon
May 5: Science in Ceremony Roundtable, 2:00-4:00 pm, EMU Gumwood Room (livestream here)
May 6: Art, Ceremony and Activism panel, 12:00 – 1:30 pm, EMU Ballroom (livestream here)
May 6: Whale People Exhibit, 7:30 – 9:30 pm, EMU Green (livestream here)
May 7: Whale People Exhibit, 7:30 – 9:30 pm, EMU Green
May 9th @ Chinook Nation / Astoria, OR
2:30-4:30 PM, Towler Hall, Clatsop Community College
May 10th @ Portland, OR
6:00 – 8:00 pm, Ecotrust at The Redd
May 11th @ Celilo Falls, OR 
8:00 am ceremony at Celilo Park
10:30 am – Salmon Peoples' Testimonials in the Longhouse (Invitation-only event)
7:00 pm – Ceremony for the Totem Pole departure
May 14th @ Confederated Tribes of the Umatilla Indian Reservation / Pendleton, OR 
Saturday at the Tamastslikt Cultural Institute and Museum
2:00 – 3:00 pm, 'Meet the Carvers' event with Lummi carvers Jewell and Doug James, followed by free admission to exhibits and final day of "We Are Here" featuring 14 contemporary Indigenous artists.
7:00pm – 8:30 pm, outdoors Totem Pole Journey program with speakers, song, and blessing
8:30 pm – 9:30 pm, outdoors Whale Protectors Exhibit IMAX-style screening
May 16th @ Nez Perce Tribe / Lewiston, ID 
9 am – 2:30 pm, Hell's Gate State Park
May 18th @ Shoshone-Bannock Tribe / Fort Hall, ID
12:00 – 1:30 pm
May 19th @ Seattle, WA
6:00 – 8:00 pm, wǝɫǝbʔaltxʷ Intellectual House at the University of Washington
May 20th @ Tacoma, WA 
6:00 – 8:00 pm, St. Leo's Parish

JOURNEY PARTNERS
Se'Si'Le (saw-see-lah) is an intertribal nonprofit founded by Lummi tribal member Jay Julius, with a goal of reintroducing Indigenous spiritual law into the mainstream conversation about climate change and the environment.
Nimiipuu Protecting the Environment
Save Our Wild Salmon Coalition
Sierra Club
Columbia Riverkeeper
Earth Ministry
Salmon Nation
Ecotrust
Saint Leo Parish
Tamastslikt Cultural Institute
The Natural History Museum
University of Oregon (Center for Environmental Futures and Department of Philosophy)
University of Washington (wǝɫǝbʔaltxʷ– Intellectual House)
Freebuilt Films
Sponsors
Ferguson Foundation
Harder Foundation
Hewlett Foundation
Myer Memorial Trust
Northwest Fund for the Environment
Trust for Mutual Understanding
Vadon Foundation
The Umatilla showing of the Whale People exhibit has been made possible in part by a grant from the National Endowment for the Humanities (NEH): Sustaining Humanities through the American Rescue Plan in partnership with the Association of Tribal Archives, Libraries, and Museums (ATALM). The ideas and views in the exhibit and public program do not necessarily reflect those of NEH or ATALM.