Mining the HMNS: An Investigation by The Natural History Museum
Exhibition @ Project Row Houses, March 26 – June 19
View video and photo documentation from the exhibition here.
Is the Houston Museum of Natural Sciences a museum, or a PR front for the fossil fuel industry? This is the central question of "Mining the HMNS", an exhibition by The Natural History Museum that interrogates the symbiotic relationship between the Houston Museum of Natural Sciences and its corporate sponsors. The exhibition excavates key narratives and displays in the Houston museum, and highlights the voices and stories that are excluded–those of the low-income predominantly Latino and African-American fence-line communities along the Houston Ship Channel.
In partnership with T.E.J.A.S. (Texas Environmental Justice Advocacy Services), The Natural History Museum will co-host monthly "Toxic Tours" of East Houston's petrochemical plants and refineries, and conduct extensive air quality monitoring tests in collaboration with scientists from Texas State University. Situated at the confluence of scientific research, environmental justice, and critical museum practice, the exhibition aims to model the museum of the future–one that works to mobilize a collective response to the challenges of the Anthropocene.
Toxic Tours take place on the first Saturday of every month.
April 2, May 7, and June 4
10am – 12:30pm
Meet @ Project Row Houses
2521 Holman St, Houston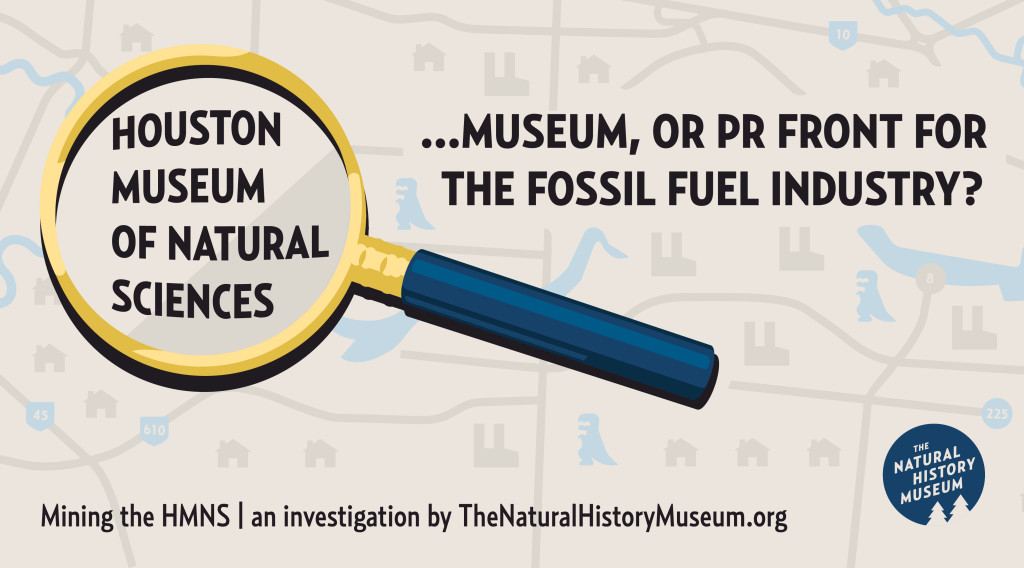 About The Natural History Museum
The Natural History Museum is a mobile, pop-up museum that highlights the socio-political forces that shape nature, yet are excluded from traditional natural history museums. The museum's primary subject of study is the "fossil fuel ecosystem", characterized by a complex set of interrelated feedback loops encompassing land, energy, politics, society, economics and culture. The museum turns its anthropological gaze on traditional science museums as ideological habitats within this ecosystem.  
About T.E.J.A.S.
Texas Environmental Justice Advocacy Services (t.e.j.a.s.) is a community-based environmental justice organization based in East Houston. T.E.J.A.S. provides community members with the tools necessary to create sustainable, environmentally healthy communities by educating individuals on health concerns and implications arising from environmental pollution, empowering individuals with an understanding of applicable environmental laws and regulations and promoting their enforcement, and offering community building skills and resources for effective community action and greater public participation. T.E.J.A.S.' goal is to promote environmental protection through education, policy development, community awareness, and legal action. Its guiding principle is that everyone, regardless of race or income, is entitled to live in a clean environment.